Today we're talking crop tops and mom jeans! #80sbaby
When the temps go from 75 and sunny to pushing 90 overnight, you can bet I'm busting out crop tops. And gingham is still one of my favorite seasonal patterns. Sure, I see it everywhere on everyone now. But I still love it. Sue me!
When you start to see gingham out and about, it means summertime is around the corner. It is an instant mood lifter and makes me feel happy and carefree. It definitely has a retro, beach-y vibe, yet at times it can feel like you've fashioned your clothes out of a table cloth. But we're all about balance here!
This particular top actually features a smaller pattern than your average gingham piece, so it is a little different than the others in my closet and it comes in under $40 #winwin  😏 The twist front feels fresh and I think the bow is festive without being overkill. Throwing this top on with anything high-waist is an effortless outfit that still looks polished and fun.
With the ever growing popularity of cropped tops, 'mom jeans' have undoubtedly become a welcomed staple in my wardrobe. To all the haters out there, I say don't knock them until you try them. And I tried on a LOT. I finally found the perfect pair for summer: these Frame Le Original Step High Waist jeans, which as far as I can tell are sold-out. I've linked a similar and more affordable pair at the bottom of this post.
Let me give a little lesson on denim and explain what makes these a good pair of mom jeans. Firstly, they are truly high-rise (12 inches in the front, 15 inches in the back, to be exact). For someone with a longer torso like me, every inch counts. Secondly, they are 99 percent cotton and only 1 percent elastane. You want to look for a similar composition, otherwise they will stretch out more quickly, losing their shape and hold around your waist #notjeggings
This also means the sizing may be different than your average pair. Remember, all jeans will stretch, so get them as tight as you can stand them. For reference, I bought a 26 in this style and I already feel like they're getting a little loose. Probably because I have been wearing these at least once a week. Sorry I'm not sorry!
The detailing on these is incredible and also so important. I love the distressing, raw hem and strategic fading. Everything works together with these beyond perfect pockets to make these worth every penny. If you can find a similar pair, don't sit on these for summer!
xx Hannah
And as promised, links to virtual dupes of these jeans that are quite impressive! I'll admit, I own a pair or three now. The best part about these is that can easily find them at any mall in America. Slow clap for Abercrombie & Fitch, because they are making a comeback to a generation of once faithful customers! 🤣 I have not stepped foot in an Abercrombie since middle school (the smell of the store still brings me back early 2000s), but their new line of denim is *almost* perfect.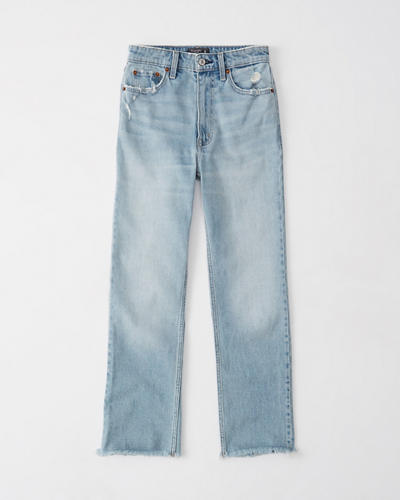 The Zoe is my pick for a copy-cat pair! They are a fraction of the cost of Frame and are currently on sale. I also purchased a 26 in these. Happy shopping y'all!